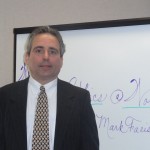 There are ethical people out there and they are in the majority by my counting.
Whatever the number is or the percentages, we need a lot more of them because American businesses are largely dysfunctional when it comes to how we hire people, how we train, and how we treat each other.
We just aren't very ethical but think otherwise most of the time.
Now we have people popping up out of the woodwork flaunting their skills as ethical consultants and trainers.
Just what to they think they know about ethical behavior that would have lasting value for a client?
I don't have anything against consultants in general, but they are hired to solve problems for clients. That means defining the scope of some project upfront and agreeing in advance on milestones and deliverables.
What does an ethical practitioner like myself do that is different and have client value?
I work with the clients in an open-ended arrangement addressing issues and setting goals along the way.
I'm not interested in hitting a few targets, milestones, objectives, deliverables ect., collecting payment and then hitting the pavement for home.
An ethical practitioner like me develops clients for the long haul.
I contribute over time to build better ethical cultures.
I am a subject matter expert who is unique and rare; a former sales and marketing executive who crossed the line and committed fraud against a multi-billion dollar company. It cost me my freedom.
More importantly, I took ownership of my problem and accepted personal responsibility for my lack of good judgement.
Ethics comes from within. Do your best every day.
I'm not interested