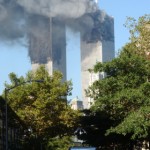 As we approach the ten-year anniversary of 9/11, there will be plenty of reflection on what happened and why.  To the families who lost loved ones, they will rightfully remember, some will grieve, and others will find a way to smile.
John DeVito remembers things a bit differently with his thoughts about life and ethics surrounding this event.
He was chief operating officer of a small investment banking firm working on the 87th floor of One World Trade Center.  After a plane slammed into offices seven stories above, he led employees and an auditor into the stairwell for a fifty minute escape.
When he arrived home there were countless calls including some from employees who were not in the building at the time.  To his amazement, these employees were more concerned about a negative comment made by the New York Times about their company rather than the fate of others in the building during the attack.
He decided right there and then to move on with his life, unable to work with selfish and self-centered individuals.  He would be an entrepreneur again and work for himself.  He would help others through the success of his businesses and strive to find the balance of life and family.
After doing some motivational speaking on several occasions, he discovered something very basic in life and ethics that most people struggle with to various degrees.  "You don't do the right things because you say, What's in it for me.  You do it because it's the right thing to do in life.  I'm doing the right thing, that's what it's all about."
Life changing events have a way of infiltrating our souls and spirits.  And should we examine them like John DeVito did, we can discover the kind of perspective and balance that is often missing in our lives.
Just how do we know if we did the right thing or in fact are doing the right things as related to business ethics and personal ethics?  I would suggest that we always approach this difficult question from the direction of non-adulation and congratulations.
It is certainly acceptable in my view to feel good about giving and sharing, as these traits lend themselves to helping others.  Doing the right things is a daily exercise and regiment that is selfless, graceful, and void of greed.  It can never be only about you, but must center on others without hidden agendas.  Good personal ethics equates to good business ethics.
Given the fact that we flawed humans normally put ourselves first, the struggle with life and ethics is mighty.  While I don't have a magical vaccine to inoculate against the power of ME, I would suggest focusing on US.
Whether you work in the for profit or non-profit part of the business world, WE will always prevail over ME.  The greatest way to do this is examine your morals, principles, and values.  Put them to good use every day in all facets of your lives.  Strive to do the right thing!!